Quantum Breakthroughs community services are offered free of charges and conditions.
All are welcome to participate.  Donations are encouraged.

---
Sweet Miracles is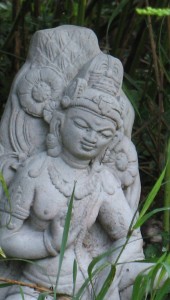 a group session with advanced bio-energetic tools and techniques to energize your life, transform blockages, realize your goals and restore well-being. This session will assist you in awakening to the creative energy of our indwelling spiritual intelligence and getting anchored in it.  Sweet Miracles is modeled after the Dharma Coaching workshops.  If you're interested in going deeper in a workshop, this is an opportunity to explore the heart of our coaching approach and witness the results.   What's it like?  See reflections on our work in the testimonials of some of the 150 past participants (ages 16 – 73), and join us to experience for yourself the power of a group aligned with spirit and intention! more...
Schedule & Location:  next event TBA
Facilitators: Durga with Deborah Wilson
Terms of Service:  All are welcome to participate.  Donations are encouraged.

Kirtan Jam  Kirtan is an ancient, meditative, heart-opening and fun call-and-response singing yoga practice with mantras (energized, sacred Sanskrit words) put to simple, traditional melodies.  It empowers people of all ages and backgrounds to expand prana (life-force energy) and ground in pure being through devotion to the sacred. What's it like? See testimonials and join us to clear the mind, de-stress the body, and experience the energy of peace, joy and connectedness.  more...
Schedule:  events held on the second Saturday of every month
Service: programs are available on request
Facilitators: Durga & friends
Terms of Service:  All are welcome to participate.  Donations are encouraged.
Healing Mantra for the Soul When people are moving towards shedding the physical body, thoughts crowd the mind and give way to increased fear and grasping at a time when mental calm and inner tranquility are most evolutionarily beneficial.  Thoughts like: Why is this happening?  Will I have time to resolve unfinished business … live out my life's purpose?  What will happen after I'm gone?  Will I be remembered … missed … honored?  Will those I love survive? Where am I going? Is there a divine power … and, if so, will it be present for me when I transition?  Will it be there for the loved ones I leave behind?   This program provides peaceful, uplifting vibrations to empower people transitioning so they can release burdensome thoughts and emotions, de-stress, and let go into a state of peace. more...
Chanted by one or more facilitators 108 times, an ancient Sanskrit
mantra
is used to gently purify at a deep level.  The
mantra
recited for this program is traditionally known as a spiritual formula for mental, emotional and physical well-being.  During the program, recipients simply close their eyes and let the vibrations of a beautiful, fortifying serenity fill the space, nourish the soul, clear the mind, and relax the body.
Service on Request:  contact us
Facilitators:  Durga & friends
What's a mantra?  A mantra is a sacred phrase that protects the mind by imparting a peaceful relaxation that is beyond time and space.
Recipients:  Program is available for all creatures.
Terms of Service:  All are welcome to participate.  Donations are encouraged.