Programs & Workshops
---
FAMILY YOGA & KIRTAN WORKSHOP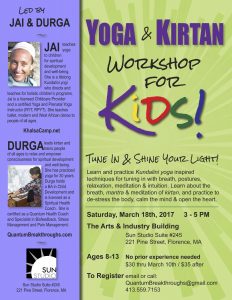 Tune In & Shine Your Light! This fun workshop is designed to relax, energize, and engage children in cultivating awareness and shining their light.   Learn and practice Kundalini yoga-inspired techniques for tuning in using breath, postures, relaxation, meditation and intuition. Learn about kirtan and practice to de-stress your body, calm your mind and open your heart.  Family members of all ages are welcome. Children under 8 must be accompanied by an adult. The program is geared for children ages 5 and up. No prior experience is needed.
~ back again soon
~ early bird price: $3o single, $80 family / then $35 single, $85 family
~ Register on-line
~ for questions about the program, contact
~ Fragrance-Free:  Please do not wear scented products.
---
JAI teaches yoga to children for spiritual development and well-being. She is a lifelong Kundalini yogi who directs and teaches for holistic children's programs. Jai is a licensed Childcare Provider and a certified Yoga and Prenatal Yoga Instructor (RYT, RPYT). She teaches ballet, modern and West African dance to people of all ages. KhalsaCamp.net
DURGA leads kirtan and trains people of all ages to relax and empower consciousness for spiritual development and well-being.  She has practiced yoga for 30 years.  Durga holds a BA in Child Development and is licensed as a Spiritual Health Coach. She is certified as a Quantum Health Coach and Specialist in Biofeedback, Stress Management and Pain Management. 

 

KirtanJam.org
---
Presentations
---
Protective Psycho-Spiritual States and Strategies for Stress and Pain Reduction, Recovery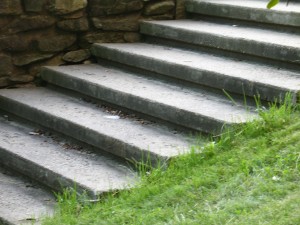 and Equanimity
•  stress profiles and strategies for stress-reduction

Cycles of Breath and Prana:  How We Take In Energy and Transform It for Dharmic Transformation, Manifestation and Evolution
•  expanding energy for spiritual development
All About Kirtan
•  a spiritual practice to empower consciousness and energy for personal and planetary evolution
modules
1.  Spiritual Devotion and Practice
2. 
Pranayama
:  Expansion of Life-force Energy with Regulated Breathing
3. 
Mantra
:  Sanskrit Energy Formulas
4. 
Kirtan: 
Practice and Evolution
5.  Building Energy for Inner Peace
•  comprehension questions for participant evaluation are available for this series